Hoyt/Formula Recurve String
Our standard recurve strings are made with 8125 from BCY USA. They are pre-stretched, twisted and served under tension with a Speciality Superserver which produces a string you can trust.
Bows with Hoyt limbs require a string that is 0.75″ longer than the ILF length.
For help on ordering please see the description below.
Our standard recurve bowstrings are made with high quality materials from BCY USA. They are pre-stretched, twisted and served under tension with a Speciality Superserver which produces a recurve bowstring you can trust.
On all our recurve bowstrings the end loops are served with a single piece of Halo serving. This method provides a more durable, hard wearing bowstring.
All of our bowstrings are made by seasoned archer Sonnie Emeney. Having the same professional making each bowstring means you can expect the same high quality output every time.
String Lengths
We measure all our finished recurve bowstrings by pulling them hand tight along a tape measure. This way our customers can do them same.
Our finished string lengths for Hoyt/Formula recurve bowstrings are 2.75″ shorter than the total length of your bow (please check your manufacturer's recommended string length before ordering). If you would like a different length bowstring we also make Custom made strings.
Bow length
Your total bow length is dependent on your riser and limb length combination. Please see the table below that covers most combinations.

Strand Count
The amount of strands in your string can be a useful variable when it comes to tuning your bow or trying to reach that next distance. If you shoot a low poundage and your string is too heavy it could slow down your arrows and make it harder to get out to distance. If you are unsure on what strand count you need please see the quick guide below.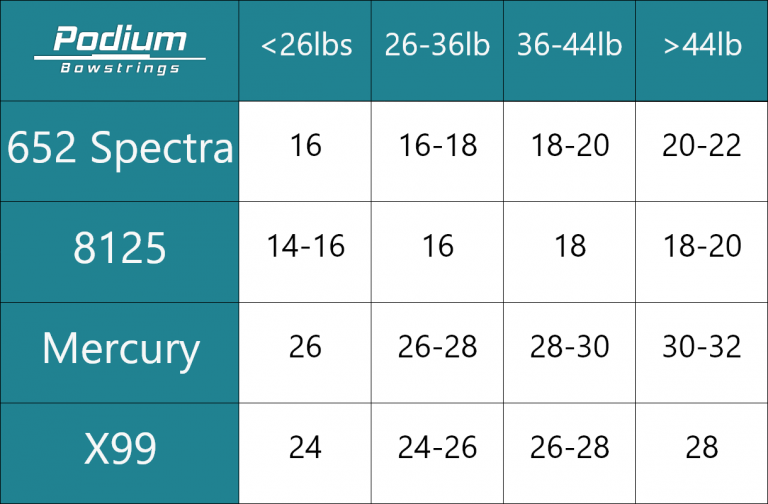 Nock Size
The nock is the piece of the arrow that connects to the string. We build your string so that the centre serving has the correct diameter for your nocks. There are a lot of different nocks out there and if you need help identifying yours you can see the most common in Podium Bowstrings nock guide. If yours isn't in there feel free to send us a picture via email and we will be happy to help. [email protected]

Colour Choice
When you select a colour you will see a green box appear around it. If you would like to choose a second colour you have to select "Dual colour" from the "How many colours would you like" section, £1 will be added to the cost of your string for this and a second colour selection will appear. To change your mind or get rid of this option you can simply click on the "Single colour" selection and the extra colour will be removed.
All the colour samples given to choose from are the spools we had at the time photographed in direct sunlight. There has been no editing to the colour in the photos. Colours may appear slightly different dependent of your display.
All the colours are dyed so there could be some very slight variation in colours when we get replacement spools but this should be too small of a difference to recognise.
Delivery
We make all our strings to order. We endeavour to get strings made within 5 working days. After, when we have posted your product, the arrival date will depend on the postage type you have chosen and the efficiency of the postal service at the time. International orders can take a substantially longer time to arrive.
**COVID 19**
The outbreak of COVID19 has seen a delay in the postal service, in particular with international services. Please allow extra time for your products, alternatively  you can get in touch at [email protected] to organise getting your products tracked.
Only logged in customers who have purchased this product may leave a review.
You may also like…
£

4.99

£

1.20